Wednesday 9th August 2023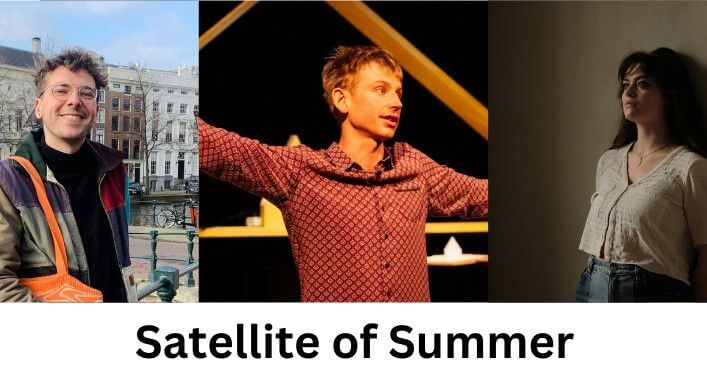 Three headline poets and open mic slots on board the John Sebastian Lightship
Doors open 7pm for 7.30pm start
Satellite Of Summer, a special event brought to the Lightship by Satellite Of Love Open Mic Poetry.
Toby Thompson
Previous Glastonbury Poetry Slam Champion Toby Thompson has written commissions for the RSC, The Royal Geographical Society and the National Portrait Gallery. He's performed his work at The Natural History Museum; The Royal Albert Hall and The House of Lords. His one man poetry and music storytelling bonanza 'For The Record' won the Pleasance Indie Award for Best Theatre Show at at the Edinburgh Fringe 2018. His show 'I Wish I Was A Mountain' won the Victor Award for Best Theatre Show at Philadelphia's IPAY Festival 2020. In 2022, Toby toured 'I Wish I Was A Mountain' to China for six months, and also to Ireland, where he received a 5 star review in The Irish Times.
'Entrancing… The words tumble out of him like an extended jazz solo' – The Guardian
'Touching, captivating, and toe-tinglingly lovely, Toby's work is a joy' – Edinburgh Guide, 5 stars
'…easily one of the most gifted young wordsmiths I have ever had the pleasure to encounter.' – Akala
Iona Lee
Iona Lee is a poet, visual artist, music-maker, storyteller and spoken-word performer from Edinburgh. She has been a prominent member of Scotland's live poetry scene for ten years, appearing on radio (The Verb, The Digital Human) and television (The Big Scottish Book Club), and has performed in venues and on festival stages all over the UK and Europe (Glastonbury, The World Slam Championships, the Edinburgh International Book Festival.) Iona has a BA in illustration from the Glasgow School of Art and a first class MFA in Art & Philosophy from DJCAD. Her pamphlet (Polygon, 2018) was shortlisted for a Saltire Award, and her upcoming debut collection, Anamnesis, was shortlisted for the Edwin Morgan Poetry Award. Iona's writing has been described by Liz Lochead as "youthful, sexy, sharp, ferally female, and funny".
Iona Lee's photography credit goes to Laura Meek – www.laurameek.com
Ben Vince
Ben is a Bristol based poet and performer, whose work seeks intimacy above all else – be it with other humans, the more-than-human, or the spiritual. He has been published in Horizon, has edited for The Scores Journal of Poetry and Prose, and is both a commended Foyles Young Poet and winner of a Fresher's Writing Prize.